GIANTS PLAYING IN THE SNOW?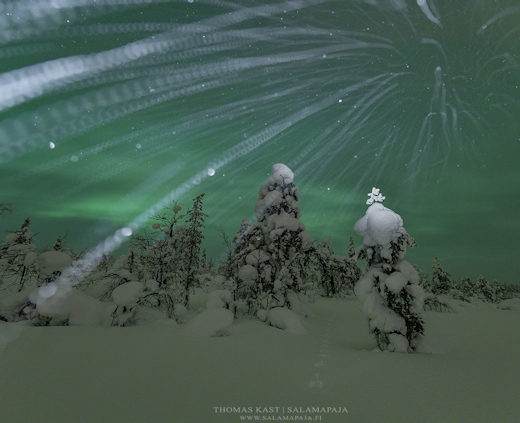 No, they are just trees. cf.
www.spaceweather.com
for Friday, March 9, 2018.
ARCTIC WINTER MIXES WITH SPRING: Seasons are changing on Earth as the March equinox approaches, now less than two weeks away. Last night in Enontekiö, Finland, Thomas Kast captured the transition in this rare photo of falling snowflakes and Northern Lights:

In his photo, spring is represented by green. Researchers have long known that auroras love equinoxes. During the weeks around the onset of spring, even gentle fluctuations in the solar wind can fill Arctic skies with verdant lights. The reason for this sensitivity has to do with the seasonal orientation of the sun's magnetic field--a phenomenon known as the "Russell-McPherron effect," named after the researchers who first studied and explained it .

Winter, of course, is represented by white. The snowy streaks in Kast's exposure signal that spring is nigh--but has not yet arrived.