My picture of the Korsun Mother of God Church in Uglich [ built 1730 ] still is too large to post here. Needs further work resizing.

Meanwhile, another angle. Take away the barn, old fence boards and rural setting and instead place this in the context of what a business magazine in November 2018 described as the following :
"One of America's best views has come to market high above perhaps America's most beautiful metropolis — San Francisco"

Since the property takes up 2 lots on Russian Hill, only one block from the world famous tourist mecca of the section of Lombard Street called 'the crookedest street in the world', presumably a Church built here would need to be quite compact and make more of an impression by height than width, especially in order to be seen from across the San Francisco Bay and numerous other locales.
Here is another angle showing off the Church to good effect. It is the lower image :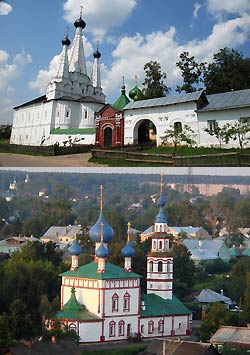 A closeup of the domes, which style seems ideal, very airy and light versus heavy and bulbous, also enhancing views from miles away :